Informationen für professionelle Anleger - 24.11.2022
Ausgezeichnet nachhaltig – FNG-Bestnote für sieben Publikumsfonds
The article is not available in the chosen language und will therefore be displayed in the default language.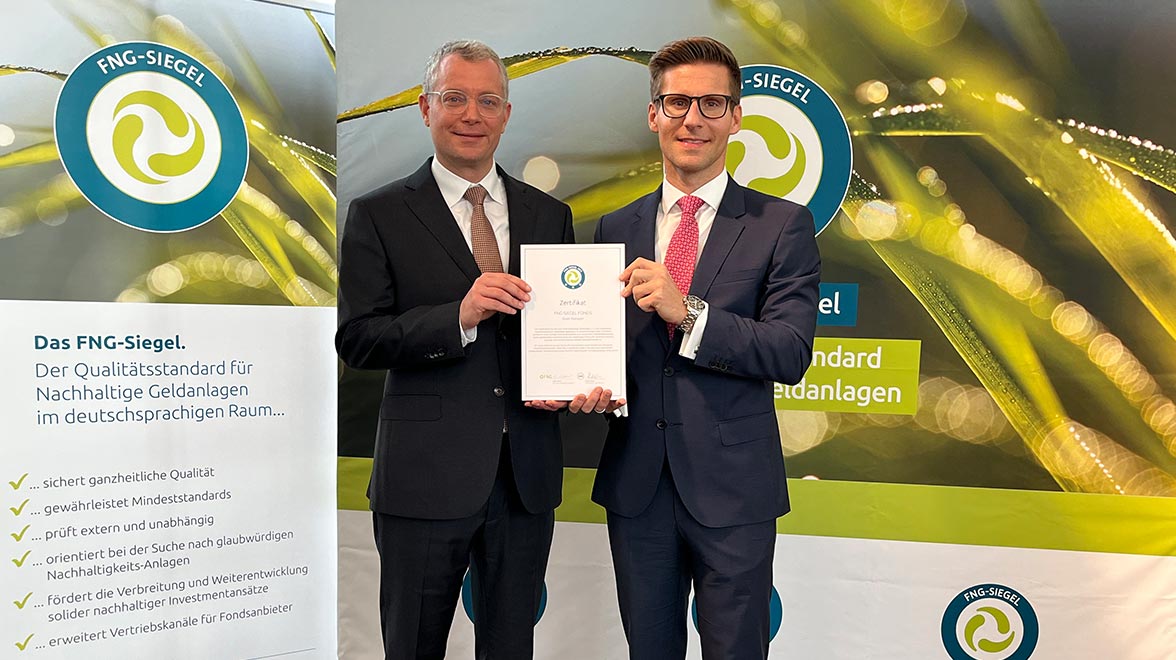 Metzler Asset Management stellte seine langjährige Erfahrung und Kompetenz beim Thema Nachhaltigkeit zum wiederholten Male unter Beweis. Bei der diesjährigen Verleihung des FNG-Siegels am 24. November 2022 erhielten insgesamt sieben Publikumsfonds von Metzler Asset Management die höchste Bewertung mit drei Sternen.
"Wir freuen uns, dass dieses Jahr noch ein weiterer Metzler-Fonds die Bestnote beim FNG-Siegel erhalten hat. Das bestätigt uns darin, unseren ESG-Ansatz konsequent und stetig weiterzuentwickeln und damit die steigenden Anforderungen der Investoren im Bereich Nachhaltigkeit zu erfüllen", so Daniel Sailer, Head Sustainable Investment Office.
Das FNG-Siegel hat sich in den vergangenen Jahren als Orientierungshilfe im Markt für nachhaltige Geldanlage etabliert.
Je drei Sterne – für sieben Publikumsfonds von Metzler Asset Management
FNG-Siegel: Umfassende Bewertungskriterien
Das FNG-Siegel ist seit 2015 das führende Label für Finanzprodukte, die die Mindestanforderungen und darüberhinausgehende Merkmale einer glaubwürdigen, professionell verwalteten nachhaltigen Geldanlage erfüllen. Die Prüfung der Fonds leistet ein externes-unabhängiges Audit-Team unter der Verantwortung von Prof. Dr. Timo Busch von der Research Group on Sustainable Finance der Universität Hamburg.
Die Methodik des FNG-Siegels wurde, wo bereits möglich, an die EU-Regulatorik und dem Zielmarktkonzept der deutschen Verbände angepasst. Neben der Aufnahme der Tabakproduktion als Ausschlusskriterium wurde die Toleranzgrenze für den Mindestausschluss zur Kohle-Stromerzeugung von 25 Prozent auf 10 Prozent gesenkt, um dem Thema Transformation noch besser gerecht zu werden. Die Achtung von Arbeits- und Menschenrechten, Umweltschutz und Korruptionsbekämpfung zählen selbstverständlich auch zukünftig zum Mindeststandard. Daneben sind Investitionen in Atomkraft, Kohlebergbau, Fracking, Ölsande sowie Rüstung unzulässig.
Hochwertige Nachhaltigkeitsfonds, die sich in den Bereichen "institutionelle Glaubwürdigkeit", "Produktstandards" und "Portfoliofokus" besonders hervorheben, erhalten bis zu drei Sterne.