Press Conference - 10.8.2021
Net zero – ambitious but doable
Several listed companies, particularly from the energy sector, are likely to benefit from the German government's new climate targets.
Germany's path to climate neutrality is clear thanks to a ruling in the highest court in April of 2021. According to the German Constitutional Court, the Climate Protection Act of 2019 was not enough and the targets set for reducing emissions from 2031 on were insufficient. The German government has now amended its climate protection laws and moved its "net zero" target up from 2050 to 2045. "Net zero" means that aggregate energy demand, which is currently still mostly covered by fossil fuels, must be generated almost entirely from renewable sources. This includes not only electricity demand, but also the energy previously generated from oil, coal and gas combustion. If greenhouse gas emissions still occur after the target date of 2045, they must be offset in full.
In a comprehensive study, Guido Hoymann, sector analyst at Metzler Capital Markets, has examined how much renewable capacity would be needed in order to achieve this radical transition to green energy by 2045 and has estimated the costs involved. In the study, he has also examined the role that hydrogen will play in this process. His calculations are based on the assumption that energy demand will decline around 30% by 2045 due to savings in all sectors. "But even then, 'net zero' requires Germany's green energy capacity to quadruple," says Hoymann, whose analysis is partly based on data from the Fraunhofer Institute in Munich, Metzler Capital Markets' scientific cooperation partner.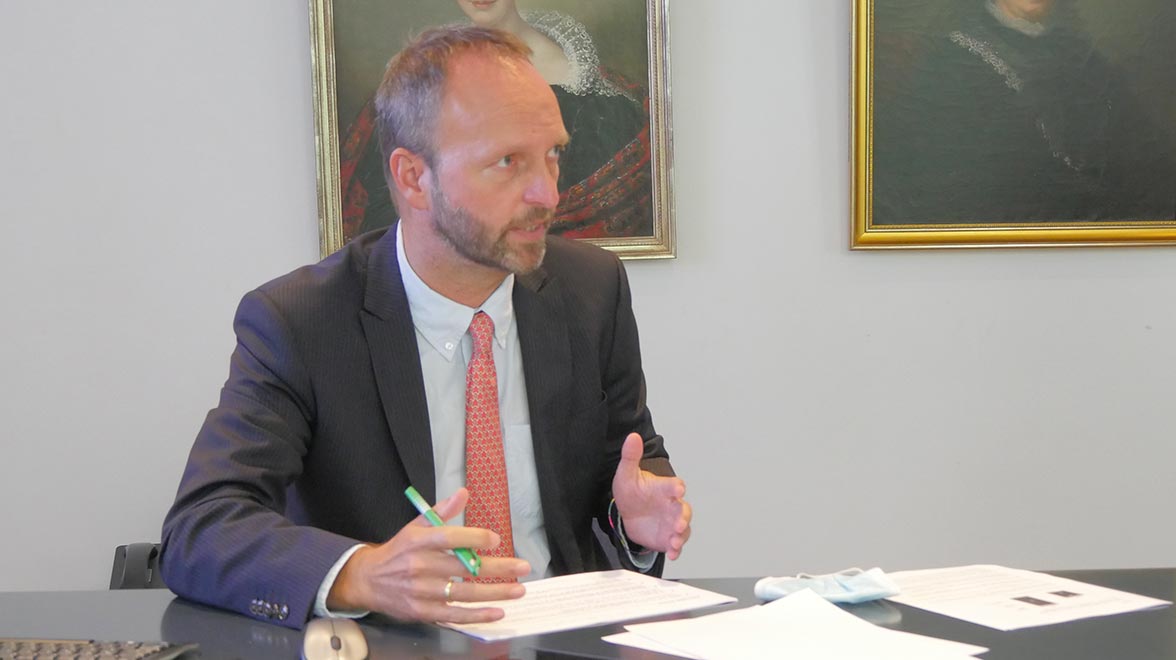 Expansion will focus primarily on photovoltaics and wind energy. Their capacities will have to increase about six-fold by 2045. This means Germany will have to build around 630 gigawatts (GW) of photovoltaic and wind power capacity over the next 24 years, or around 26 GW per year. By comparison, the figure for 2020 stood at just 6.5 GW. According to Hoymann, the new target corresponds to a total investment of around EUR 630 bn at today's price of around EUR 1 bn per GW.
Power-to-gas technologies, which convert electricity generated from renewable energies into hydrogen and its derivatives, can help solve the problem of storing and supplying green energy at any location. It also allows combustion engines, e.g. in aviation and shipping, to continue to be used in a CO2-neutral manner. Hoymann expects that by 2045, about one-third of the energy supply could be stored and made available as "green hydrogen", e.g. for transportation. The remaining supply will be consumed directly as green electricity or stored – either electrochemically via batteries, thermally via hot water storage, or mechanically, e.g. via pumped-storage power plants, compressed air storage or flywheel storage.
Electrolysis capacity for hydrogen production will have to be increased to approx. 140 GW by the target date, i.e. by around 6 GW per year. At Hoymann's estimated cost of about EUR 750 m per GW, this corresponds to an annual investment of about EUR 4 bn or a total of about EUR 100 bn for electrolysis plants. The cost of building and expanding hydrogen distribution infrastructure is likely to add up to about EUR 10 bn for additional pipelines or for repurposing existing pipelines. Hoymann believes repurposing should cover about 75% of pipeline needs.
However, the investments for hydrogen demand will probably not be made directly in Germany. The Fraunhofer Institute in Munich assumes that more than 70% of hydrogen demand in Germany will be covered by importing.
"We estimate the direct costs of building a completely green energy supply for Germany over the next 24 years will be around EUR 750 bn or about EUR 31 bn per year," says the Metzler analyst. More than 80% of this will be accounted for by expanding renewable energies. To put the figures in perspective, EUR 31 bn corresponds to around 0.9% of Germany's annual gross domestic product (GDP). Over the past ten years, German companies have invested an average of around EUR 200 bn per year in equipment. German utilities have invested a total of around EUR 11 bn p.a. on average over the same period.
Hoymann has also extrapolated the costs for the net zero target to a global level. Assuming that Germany accounts for about 2.5% of the annual energy consumed worldwide, about 40 times the amounts mentioned will have to be invested in renewables and hydrogen worldwide. This corresponds to about 1% of the world's GDP.
---
Contact for press-related question
More articles
This document constitutes promotional material published by B. Metzler seel. Sohn & Co. AG (Metzler).
It is based on information which is generally available and which Metzler believes to be fundamentally reliable. Metzler has not verified the accuracy or completeness of the information and provides no warranty or representation in respect of the accuracy or completeness of the information, opinions, estimates, recommendations and forecasts contained in this document. Neither Metzler nor any of its shareholders or employees may be held liable for damages or any other disadvantage suffered due to inaccurate or incomplete information, opinions, estimates, recommendations or forecasts resulting from the distribution or use of this document or in connection with this document in any way.
This document is provided for advertising purposes only and does not constitute or form part of any offer or solicitation of any offer to buy securities, other financial instruments or other investment instruments. This document does not meet the legal requirements for ensuring impartiality of investment recommendations pursuant to Section 85 of the German Securities Trading Act (WpHG) in conjunction with Section 20 (1) of Regulation (EU) No. 596/2014 of the European Parliament and of the Council of April 16, 2014 regarding market abuse (Market Abuse Directive) to which Articles 4 and 6 of the Delegated Regulation (EU) 2016/958 of the Commission of March 9, 2016 apply in addition to the Market Abuse Directive. Metzler does not act as investment advisor or portfolio manager in preparing this document. This document does not constitute personal investment advice.
The information, opinions, estimates, recommendations and forecasts contained in this document reflect the personal views of the author at the time of publication on the financial instruments or issuers that form the subject of this document and do not necessarily reflect the opinions of Metzler, the issuer or third parties. They may also be subject to change on account of future events and developments. Metzler has no obligation to amend, supplement or update this document or to otherwise notify recipients in the event that any information, opinions, estimates, recommendations or forecasts stated herein should change or subsequently become inaccurate, incomplete or misleading. The model calculations contained in this document, if any, are examples showing the possible performance and are based on various assumptions (e.g. regarding earnings and volatility). The actual performance cannot be guaranteed, warranted or assured.
This document may not be copied, duplicated, forwarded to third parties or otherwise published, in whole or in part, without Metzler's prior written consent. Metzler reserves all copyrights and rights of use, including those relating to electronic media. Insofar as Metzler provides hyperlinks to websites of the companies cited in research publications, this does not mean that Metzler confirms, recommends or warrants any data contained on the linked sites or data which can be accessed from such sites. Metzler accepts no liability for links or data, nor for any consequences which may arise as a result of following the links and/or using the data.
This document is subject to the laws of the Federal Republic of Germany. Venue of jurisdiction for any disputes shall be Frankfurt am Main, Germany.