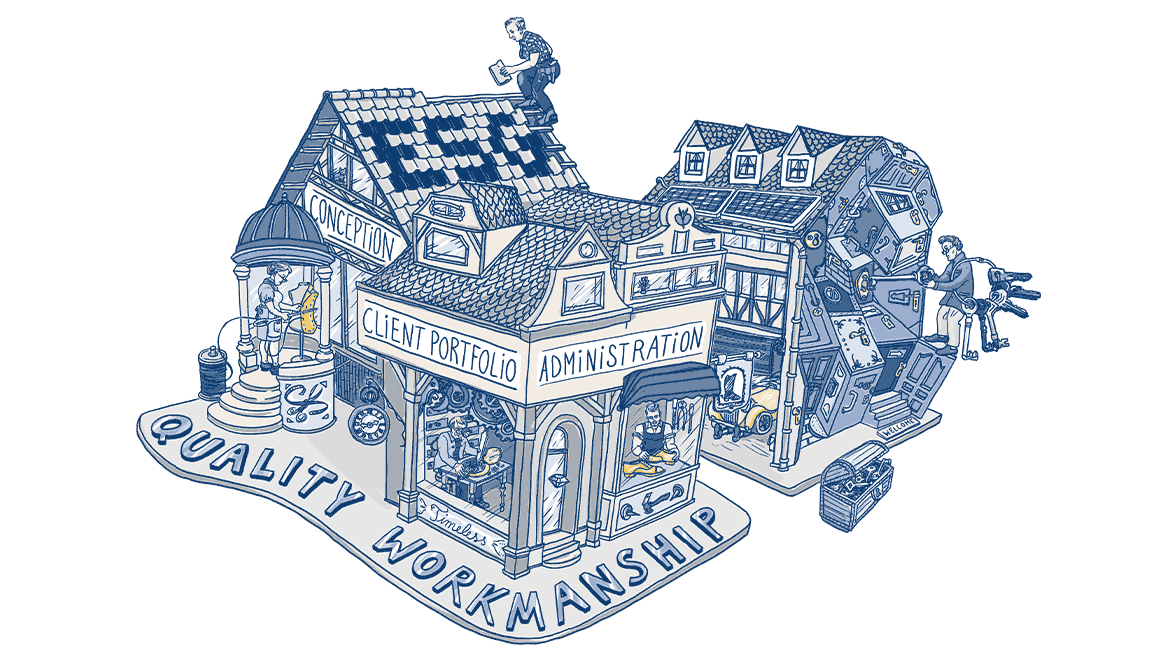 In our Asset Management division we provide investment services for institutional clients. We develop customized concepts for portfolio management in combination with efficient and secure solutions in the administration of asset management.
We talk in detail with each institutional investor about his or her specific objectives and risks. Through a shared set of values, mandates can evolve into long-lasting business relationships. We aim to offer our clients a balanced mix of standardized processes and individual services at all times, thus creating sustainable value.
Responsible member of the Executive Board
Gerhard Wiesheu
Gerhard Wiesheu has been working for Metzler since 2001. He is a member of the Executive Board of B. Metzler seel. Sohn & Co. AG. In 2012, Mr. Wiesheu was appointed member of the Executive Board of B. Metzler seel. Sohn & Co. Holding AG. Since May 2002, he has been a member of the Partners' Committee B. Metzler seel. Sohn & Co. Holding AG and responsible for Asset Management and heads Metzler's US Real Estate business.
Members of the Management Board
Timeline of Metzler Asset Management
Metzler Asset Management is part of the group that belongs to Metzler Bank, Germany's oldest private bank in unbroken family ownership since 1674.
2021
With the sale of Metzler Ireland Limited, Metzler is consistently pursuing a shift in the strategic alignment of its asset management activities in order to focus on targeted expansion of client-oriented services such as portfolio management, pension management, sustainability investments and Master KVG.
2019
Metzler Asset Management founds the Sustainable Investment Office and recruits ESG experts
2018
Metzler Pension Management GmbH is founded.
2017
ESG reporting is introduced.
2016
Metzler Asset Management GmbH and Metzler Investment GmbH merge to form Metzler Asset Management GmbH.
2015
The first mutual fund with ESG integration is launched: the Metzler European Dividend Sustainability fund.
2012
Metzler Asset Management GmbH signs the UN Principles for Responsible Investment (PRI).
2009
Metzler opens a representative office in Beijing, China.
2006
The newly founded Metzler Real Estate GmbH advises and accompanies private and institutional clients in their real estate investments at home and abroad.
2002
Metzlers Master-KVG offers controlling for institutional clients.
The new business segment Metzler Pension Management develops individual solutions along the entire value chain of corporate pension schemes with a focus on advisory services.
Metzler establishes the Metzler Fund Xchange (MFX) fund platform to manage fund accounts for private and institutional clients.
2001
With Metzler Asset Management (Japan) Ltd., Metzler is now represented in Tokyo, one of the world's largest financial centers.
2000
Absolute return, capital preservation and benchmark-free strategies complement the product range.
1999
Fixed income products are introduced.
The newly established Applied Research team supports portfolio management in data analysis as well as product and systems development.
Metzler receives its first ESG mandate.
Cooperation begins with the sustainability rating agency oekom research (now: ISS ESG).
1998
Metzler enters into a cooperation with US asset manager Payden & Rygel.
1995
Metzler establishes Metzler FundServices GmbH (formerly Metzler Servicegesellschaft für Vertriebspartner mbH), thus focusing more strongly on thebroker market.
Metzler Asset Management GmbH is founded.
1994
Metzler puts its fund business on international footing by establishing the Irish fund management company Metzler Ireland Limited.
1987
Metzler's fund business is concentrated in Metzler Investment GmbH.
1971
Metzler launches its first mutual fund.